Omer Bhatti, the young man being referred to as Michael Jackson's "secret son" by the British press, was no secret to the pop star's family.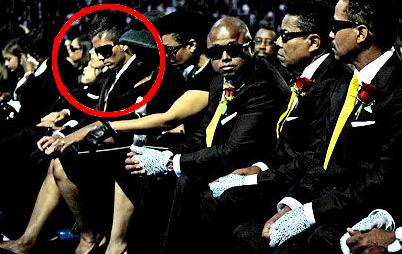 Sources close to the Jacksons say that Bhatti, who often went by Michael J, was introduced to the Jackson family as early as 1992.
"One day at the (Neverland) ranch, Michael's nephew Austin, (Jackson's sister) Rebbie's son, told his mom he just met a kid who called himself Michael J, but his name was Omer, and he was saying that Uncle Michael was his father. It was just that out of the blue," said one Jackson family friend. "This was news to Rebbie, and she turned around and called (Jackson's mother) Katherine, who had no knowledge of it either."
From that point forward, Bhatti was "running around Neverland all the time," and lived there until "around 2000, or 2001," according to a family friend close to Rebbie Jackson.
Story continues below ↓advertisement | your ad here
"The family has been wondering how long it would take for this to get out," the friend said.
Is he really Michael's biological son?
Although Bhatti appeared mysteriously and without explanation years before Jackson and Debbie Rowe had son Prince Michael, several family friends who protected the pop star's privacy through the years say they accepted the idea Bhatti was a biological son.
"He looked so much like Michael, especially when he was younger. We have every reason to believe it's his son," said another family friend who met Bhatti.
As for how he's being protected after Jackson's death, all the family friends who spoke of Bhatti agree that part of the reason Katherine Jackson got such a large percentage of the estate was because she'd be providing for Bhatti as well.
Who is the mother?
Bhatti's mother remains a mystery to the family. But one famous friend may know her identity.
"Elizabeth Taylor introduced Michael to the mother. That's all anyone knows about her," said a source who didn't know Bhatti personally, but is close to Taylor.
Comments
comments