Prince William battled torrential rain to trek up a Cumbrian mountain with a group of young homeless people today.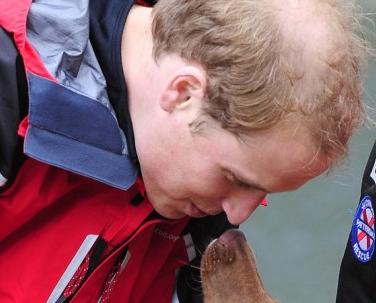 The royal completed the two-hour fell walk with youngsters from Centrepoint in Newcastle, which supports young people living on the streets.
William, who is patron of the charity, said it was a great opportunity to provide them with a different perspective on life.
"A lot of these guys have never done anything like this so it is a real challenge for them and I have really enjoyed meeting them," he said.
He spent much of the Ullswater Valley trek with 18-year-old Jonny Glendinning, who has 19 piercings on his face and body.
Their unlikely friendship began when William joked that his facial piercings might freeze in the inclement conditions.
Mr Glendinning, who was made homeless last year when his mother threw him out, said: "We were chatting about my piercings and he joked they would freeze up in this weather. I think he was a bit surprised when I said they have done before."
"I didn't know he was coming until last night but he was a lot more down-to-earth than I expected, he was canny."
Prince William supported the group throughout the trek and, when they reached the summit, he told 19-year-old Rebecca Burden: "See, I told you that you would make it, it was easy wasn't it?"
The prince wore a Patterdale Mountain Rescue jacket for the walk from Greenside Mines to Helvellyn mountain.
Team leaders from the Mountain Rescue England and Wales charity, for which Prince William is also patron, arranged the expedition.
Staffed by 3,000 volunteers who are on call 24 hours a day, the charity makes more than 900 rescues a year, half of which are carried out by the 12 Lake District teams.
Prince William said: "These men and women are unsung heroes. They are up and down these mountains rescuing people with broken legs every day."
He also helped the youngsters from Centrepoint to raise a London 2012 flag to mark three years until the start of the Olympics.
Later Prince William, a Flight Lieutenant in the RAF, will board a steam boat with families who are looked after by WellChild, the national charity for sick children.
Comments
comments