Lindsay Lohan was left red-faced yesterday after her on/off girlfriend Samantha Ronson threw her clothes onto the street after another row.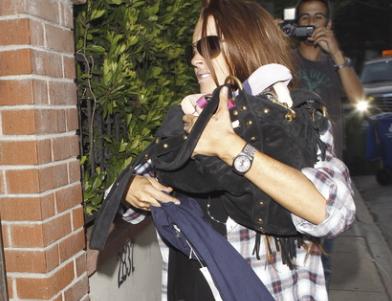 The 23-year-old redhead turned up at Samantha's Hollywood home at 6am on Monday morning – an hour after Samantha returned home alone after a late night with Sopranos actress Drea De Matteo.
After the couple were heard rowing in Samantha's house, the DJ demanded Lindsay leave the house and threw a bag of the actress's clothes onto the street.
During their early morning row, Lindsay was heard accusing Samantha of being a 'liar'.
On Sunday night, Sam met up with Drea for dinner at Nobu in Malibu, before continuing the night elsewhere.
Sam, 31, finally returned to her house at 5am and laughed off a paparazzo's assumption of a romantic date with Drea, 37.
She said: "She's one of my best friends."
Sam is friends with both Drea and her fiancé, country singer Shooter Jennings, father of her 20-month-old daughter Alabama.
After her late night with Drea, Samantha sent a message to Shooter – who is on tour in New York on Twitter, telling him he 'was missed tonight'.
When Samantha was presumably in bed, an angry Lindsay stormed up to her house at 6am and repeatedly knocked on the door.
Despite Lindsay and Samantha apparently reconciling in London last month after two months apart, it appears the DJ is reluctant to give her girlfriend the keys to her house again.
A bad-tempered Lindsay appeared in no mood to talk to photographers camped outside Sam's home and told them to 'mind your own business'.
Their latest argument comes just five days after Lindsay posted a rant, apparently about Sam, on her Twitter page at 4am.
Writing on Wednesday, she said: "Being lied to after being my father's daughter…. is miserable, especially when you're finally back on track. If someone you took a chance on loving – after 3.4.5.7.8.9 times lied to you tonight.. What would you do? Even though you love them?"
Ten minutes later, Lindsay posted a message to Sam, demanding: "Are you picking me up or not."
But by Thursday, the pair appeared to be on better terms again, enjoying a romantic lunch at a Mexican restaurant before going to see an American Idol live tour concert at the Staples Center.
Lindsay recently admitted the couple's relationship was volatile and she was unsure how long they would last.
She said: "I am so in love with Sam but the truth is neither of us can ever stop arguing with one another. I wake up every morning and despite being more in love with Sam than I have been with anyone in the past, in all honesty I don't know if we'll still be together by the time we go to bed."
Comments
comments