Teen star Miley Cyrus's record label forked out a whopping £150,000 on a private jet so she could sing for Ant and Dec — only for her to fluff her lines.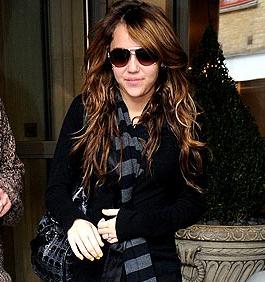 The Disney actress, 16, interrupted filming for TV hit "Hannah Montana" in Los Angeles to do a five-minute promotional gig on Saturday Night Takeaway in London.
But viewers were stunned when she turned away from the audience and stopped singing half-way through new single Fly On The Wall. Fans have flooded online chat forums to discuss her performance on the ITV1 show.
Olivia Ellingham, from Bedford, said: "It was so bad. I was cringing. She turned her head away from the audience and it looked as if she had forgotten the words."
Another fan said: "I saw her go quiet and wondered why, then I noticed her miming 'Oh my God, I forgot my lines!' to her dancer at the end."
One fan asked: "How can you forget your own song?"
A source said: "Due to time constraints the only way Miley could come to the UK was on a private jet. All her dancers were on the flight and they were chauffeured everywhere. The costs were covered by Hollywood Records who look after all Disney artists and Polydor."
Miley's flying visit also meant she missed the British premiere of the new series of Hannah Montana. Our source added: "Miley had to be back in LA for filming first thing on Monday so she was in London for less than 20 hours. She was gutted to miss the premiere."
A Polydor spokesman said of Miley's shambolic performance: "She always sings live so anything can happen."
An ITV representative said: "We were really pleased to have Miley perform on the show."
Comments
comments