After accusations were leveled against Miley Cyrus for "hanging up" on various radio stations today during interviews, the tween queen herself has taken to her Twitter page to address the issue.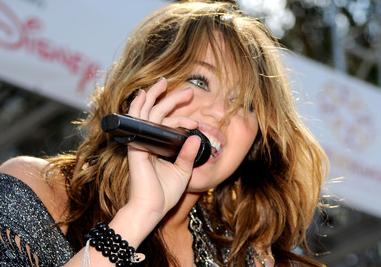 Some thought that she was angry and didn't want to answer questions that were on her "do not ask" list, but Miley says that ain't so.
Here's here apology, originally spread over a few tweets but now condensed in all their uncapitalized and misspelled glory (hey, she's only 16!):
"Theirs a little drama (of course the world loves it ew.) because apparently i "hung up" on radio stations today and I hate to say thats not true. I am a specific time limit and schedules are set up for specific time frames for each station… if a station goes over time I am IMMEDIATELY connected to the next station. YES, i am sorry if anyone thought I 'hung up" on them. The peeps at the radio stations r friends we know each other well and have a great relationship. I'm sorry if anything was miscommunicated, taken out of context, or misunderstood. xo"
Meanwhile, Days after being spotted jetskiing with ex-boyfriend Nick Jonas, Miley Cyrus admits that they've "definitely reconnected."
Less than a week after her breakup with model Justin Gaston, Miley fielded questions about her circus of a love life during a radio interview on Friday. When asked about Nick, the 16-year-old Disney star called him her best friend and said that they hang out often.
"We've definitely reconnected," Miley told 107.5 The River Nashville's Woody and Jim Morning Show. "We don't know what's going to happen in the future, but right now we're just kind of kicking it and hanging out as much as we can."
And she wasn't exaggerating about that. Nick made a special trip all they way to Georgia on Wednesday to visit Miley on the set of her upcoming film The Last Song. A photograph of Nick holding onto Miley's waist while jetskiing — as well as Miley's Twitter declaration that she's "in love with Savannah" — fueled rumors that they're back on.
But it hasn't been all fun and games. Nick and Miley have also spent time together professionally, recording a duet on the Jonas Bros' upcoming album Lines, Vines and Trying Times. "I'm really happy to be back in their lives," she told the radio station. "And our families are super happy we're hanging out again."
Nick and Miley ended their relationship in 2007, at which point Miley "went into this weird funk," she later told Seventeen magazine. "Nick and I loved each other… For two years he was basically my 24/7."