R&B singer Usher filed for divorce Friday from Tameka Foster Raymond, less than two years after their glitzy wedding at a Georgia resort.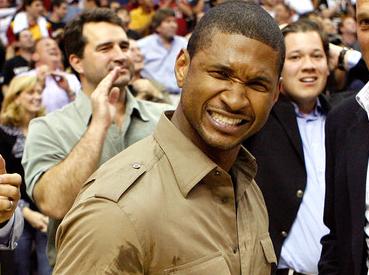 The 30-year-old Grammy-winning artist, whose real name is Usher Raymond IV, filed the petition in Superior Court in Atlanta. Records posted to the court's Web site did not give any details about the split between the R&B star and his wife, who were married in August 2007.
About 200 people attended the wedding between the two at resort built in the style of a 16th-century-style French chateau on 3,500 hilly acres outside Atlanta.
They have two young sons, 1 1/2-year-old Usher Raymond V and 6-month-old Naviyd Ely Raymond. His wife has three children from a previous marriage.
E-mail and telephone messages to Usher's publicist were not immediately returned.
In a May 2008 interview with The Associated Press, Usher addressed negative feedback from bloggers over his relationship with his wife, who's 8 years older than him and was once his stylist.
"People are so attracted to drama. That's easier to take than a story of righteousness," Usher said at the time.
"I decided to marry this woman, then I decide to be a father to my child," he said. "… It's not like I got caught with a gram of coke in my car or speeding or was caught for murder, so why would I be ridiculed, that's why I don't understand _ that's the part that is mind boggling. Why would I be ridiculed for that, even a year later."
Prior to the marriage, Usher had a string of public romances, most notably his three-year relationship with Chilli from TLC.
His hits include "Confessions," "Burn," "You Make Me Wanna" and "Yeah!"
Comments
comments