Miley Cyrus will release her memoirs even though she is only 16. Before her autobiography, entitled "Miles To Go", hits bookstores in March, a cover picture for the book has been unveiled.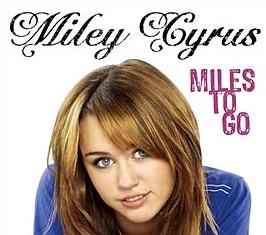 Her memoirs will chronicle the teen sensation's rise to stardom on the popular Disney Channel series "Hannah Montana". The autobiography is set to be released on March 10, 2009.
Miley Cyrus inked a multi-million dollar deal to pen her life story back in April, 2008.
The Disney Star revealed: "I am so excited to let fans in on how important my relationship with my family is to me. I hope to motivate mothers and daughters to build lifetimes of memories together, and inspire kids around the world to live their dreams."
Comments
comments