Miley Cyrus and rumored boyfriend Justin Gaston, were spotted on a chaperoned date at Toluka Lake, California, on Saturday, January 3.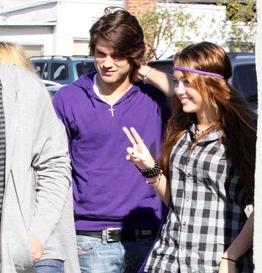 The young couple accompanied by Miley's parents, Leticia and Billy Ray, grabbed a meal at Paty's Diner.
Miley, 16, has lately been experimenting with her style. She was recently spotted wearing ripped black tights under a white boho frock, shopping with Gaston, 20.
A sneak peak of Hannah Montana – The Movie, Miley's debut film, was released recently. Not surprisingly, the trailer features Justin Gaston!
Meanwhile, they were also spotted as the pair attended Church service in Toluca Lake on Sunday, January 4. Joining the pair were the Cyrus family, including dad Billy Ray Cyrus, mom Tish Cyrus and grandma Ruth Ann.
During their outing, Miley and Justin looked matching in purple. The "Hannah Montana" cutie donned purple headband and bag, while the 20-year-old hunk sported his purple hoodie. The group were also seen grabbing a bite to eat at Mo's restaurant.