Reese Witherspoon watched the LA Lakers beat the Portland Trail Blazers 100-86 at the Staples Center with boyfriend Jake Gyllenhall on January 4, 2009.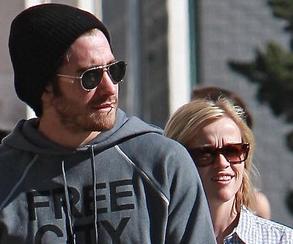 The "Legally Blonde" actress wore a grey cardigan over a black top and skinny jeans paired with brown distressed leather high boots with folded cuffs. Her makeup was light and her gold hoop earrings peeped through her casually styled shoulder length blond hair.
A little less stylish, Jake wore a grey sweat shirt over a white crew neck Tee and grey beanie cap.
Hollywood Reporter's Women in Entertainment: Power 100 list names Reese Witherspoon the third highest paid actress of 2008, behind Angelina Jolie and Julia Roberts.
Reese Witherspoon's most recent film, Four Christmases, which hit theaters on November 26, has grossed an impressive $143 million worldwide. The comedy directed by Setch Gordan additionally headlines Vince Vaughn and dwells on a couple's struggle to visit all four of their divorced parents on Christmas Day.
Reese Witherspoon, 32, who has been dating Jake Gyllenhaal, 28, since her divorce from Ryan Phillippe was finalized in October 2007, says she hasn't reconciled with her divorce and doesn't know if she will marry again.
Comments
comments