Featured on the magazine's August 2009 cover, she is photographed wearing black outfits that expose her black bra.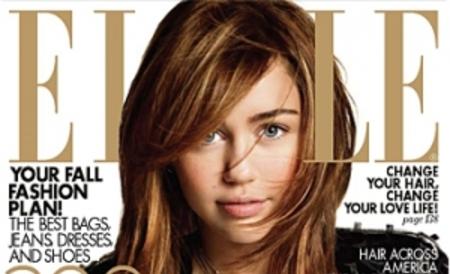 Coming under fire last year for her provocative pics featured on Vanity Fair, Miley Cyrus strikes another racy pose for ELLE magazine's August 2009 cover, which features her baring her cleavage for the lens. The cover shot shows the 16-year-old actress/singer wearing low-cut leather black outfits that shows off her black bra covering her breasts.
"MILEY! On Dad, Boyfriends, and Why She's Not a Kid Anymore," read the tagline that accompanies her picture. In companion to the snap, another pic of Miley can also be found inside the print media. The particular photo shows her wearing black dress combined with knee-high black boots. She is pictured lying her back on a table while seductively starring to the camera.
If runway style seems like more of an adult interest, it's because the 16-year-old star is growing up, showing off mature poses in the mag's photoshoot and talking about her relationship, now over, with 20-year-old model Justin Gaston.
"We're together, and then again, we're not," she said at the time of the interview. "Some people see us more as friends and don't get why we work in a relationship. They're like, 'It's weird, best friends shouldn't date!' But the person that you eventually spend the rest of your life with – I'm not saying it's him – why are you going to wake up with someone every day and not want to hang out with them?"
And Miley also revealed a closeness to ex-boyfriend Nick Jonas, who she's rumored to be back together with.
In an interview with the publication, Miley talks about her new clothing line with Max Azria for Wal-Mart. She says, "The jeans are my favorite part of the entire line. Because, like, literally this is going to be good for, like, Middle America, and it will be great for kids that really want to be in fashion but that don't have it available."
Also sharing about the pressure of living a life under the spotlight, the Disney star tells ELLE, "It's hard for all of us. There are so many people that could be using you. So me and Nick and Demi, we don't need anything from each other. We got our own thing going on," when referring to her friendship with Nick Jonas and Demi Lovato.
Comments
comments