Miley Cyrus, who was music industry's good girl, is facing more than a booming music and film career these days.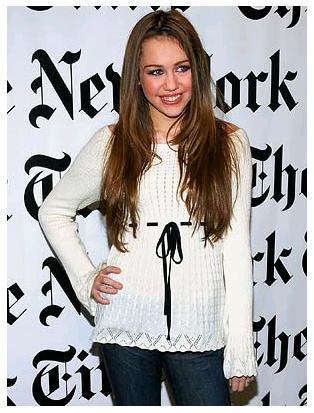 After photos of the 15-year-old star leaked online showing her posing in front of a camera in her underwear, those behind the star's "clean image" were in fear that the effect it may have on the teen sensation's reputation.
This isn't the first time the "Hannah Montana" star has caused a stir with potentially racy photos. In December, buzz sparked online with candid shots of her practically tongue to tongue with a female pal in her myspace profile.
At the time, Miley told NYC radio station Z100 that the pictures were being blown out of proportion.
An insider revealed, "Part of her public appeal has been that she's a squeaky clean Hollywood good girl and she's not seen out partying and flaunting her sexuality like many young stars today."
As for the recent batch of pictures making it's way over the Internet, the insider added, "Miley was just having fun and goofing around in all these pictures, like any normal teen. They were never supposed to be made public, and Miley feels very betrayed that someone close to her leaked them."
Comments
comments