Rihanna is the latest celebrity to put on a milk mustache for Got Milk? advertisement. Part of the caption indicated, "so shut up and drink"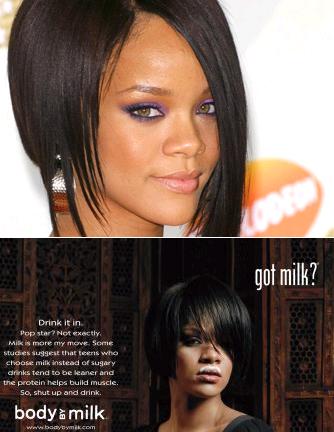 Aside from being the new face for Got Milk ad, which you could see the video of Rihanna here, the R&B superstar has been crowned the sexiest female musician by lingerie company "Victoria's Secret".
The "Umbrella" singer topped the underwear specialist's 2008 What's Sexy? list, which is compiled by the company's executives every year.
In the Hollywood categories, screen siren Eva Mendes was named sexiest actress, while "Lost star" Josh Holloway was awarded the sexiest actor title.
Spice Girl Victoria Beckham also made the shortlist – she beat off competition from stars like Gwen Stefani, Heidi Klum and Christina Aguilera to be named sexiest celebrity mum.
The honored celebrities will be treated to an extravagant A-list party hosted by the brand's model spokeswomen Selita Ebanks, Adriana Lima and Karolina Kurkova.
Comments
comments