"Allison [Iraheta]'s my favorite!" Miley Cyrus tells Ryan Seacrest on which "American Idol" contestant she votes for.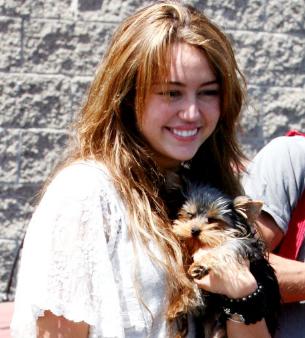 Asked by Ryan Seacrest during an interview for his morning radio show on Thursday, April 2, to name her favorite "American Idol" contestant, Miley Cyrus replied, "Allison [Iraheta]'s my favorite!" The 16-year-old Disney actress then was quick to add, "I've been texting with her."
In related news, it is reported that Miley Cyrus' pre-recorded performance for "American Idol" where she sings her track "The Climb" has been confirmed to be televised on April 15. The actress-singer stopped by the set of the hit singing competition this week to tape the performance. "It went great and I had a lot of fun," Miley enthused about her taping session.
She, moreover, also gushed about spending time with Adam Lambert, a finalist on the eighth season of "American Idol", telling Ryan Seacrest, "Adam said I looked gorgeous, which was nice!"
In another Miley news, Miley Cyrus shows off her new black puppy. Holding her new black puppy in her left arm, Miley Cyrus was all smile to the cameras when she was leaving Patys in Toluca Lake, California on Friday afternoon, April 3. The 16-year-old cutie, who was wearing a white lace dress, was accompanied by beau Justin Gaston and her mother/manager Leticia "Tish" Cyrus.
Comments
comments