The 2007-08 Hannah Montana/Miley Cyrus Best of Both Worlds trek grossed $55 million and sold about 1 million tickets to 70 shows reported to Billboard Boxscore.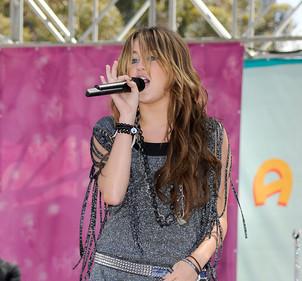 But it also provided outraged parents with a bitter introduction to secondary vendors, who scooped up tickets and sold them at huge markups. The resulting controversy made Cyrus the poster child for what many perceived as an out-of-control resale market.
Now Cyrus' fall tour will make history as the first arena-level trek to embrace paperless ticketing in an attempt to thwart resellers. As is the case with airlines, those who purchase the tickets must be on hand with their credit card to gain admission.
"The focus was, 'How do we take all the information we gathered last time out and do a better job of it?'" says Jason Morey, Cyrus' manager and president of Morey Management Group, an affiliate of Ticketmaster Entertainment's Front Line Management. "It was important to us to address the issue of demand. We thought that of every single option that was available out there, this was a really viable option, to go with the paperless ticketing."
Those associated with the tour say public feedback has been generally favorable and that tickets are selling well, with nearly 500,000 purchased already. The fact that they're not blowing out immediately as they did on the last tour is evidence that brokers aren't flooding the system, they say.
Meanwhile, Miley Cyrus will join the Jonas Brothers at the Dallas Cowboy Stadium in Arlington, TX, on Sunday, June 20, for the opening performance of their world tour.
Miley tweeted at around 3 PM
"in one of my favorite cities with my favorite people. guess where i am and what im doing. i will never tell. :)"
The Jonas Brothers brothers released their fourth studio album, Lines, Vines and Trying Times, on June 16, 2009.
One of the songs on the album – Before the storm – is a duet written and sung by Miley and Nick Jonas who recently reconnected after having split in early 2008.
Comments
comments