Vanessa Hudgens will be starring in two new films – Bandslam and Sucker Punch.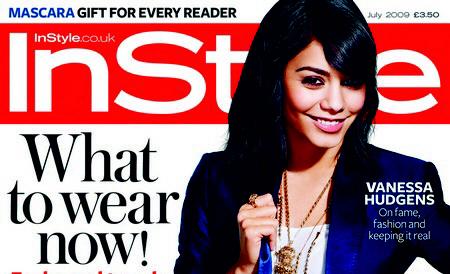 She talks of her character, Sam in Bandslam, and describes her as, "a lot darker [than Gabriella in High School Musical]" which "automatically drew her in."
In the 2nd film Sucker Punch, Vanessa gleefully explains that she "gets to be a sexy woman and kick ass". She continues,"It's totally my Angelina Jolie part. People are either going to love me for doing it or hate me for doing it, but I'm very excited".
Vaness'a equally thrilled about buying her first place in LA's Studio City district. Vanessa comments on the interior design and says, "a lot of the ideas are mine . It's very bohemian and fits my whole personality".
As for whether she has considered moving in with Zac Efron, her High School Musical co-star and boyfriend, she just shrugs, "I'm young, I should have my own place. I think that everybody should buy their own home on their own".
Talking of her style she describes it as alternating between "bohemian chic" and "rocker chic". She goes on to say " I am no label whore and for the most part, I dress for myself". However, she does admit to having a stylist, Deborah Waknin, that she says she is in "love with" as she "completely gets" her fashion sense.
Vanessa's fashion inspirations run from Mary-Kate and Ashley Olsen ("they take crazy chances and I love them for that) to Nicole Richie ("She does the whole bohemian thing so well") and Kate Moss ("She does bohemian and rocker put together. So I feel like I'm in that area").
Her future goals include working with big-name directors such as Steven Spielberg, Tim Burton, Martin Scorsese and Guillermo del Toro. With her go-getter attitude perhaps it won't be too long until she achieves these goals, as she says, 'If there's something I really want, I go for it," She adds. "Staying focused and knowing what I want is hopefully going to keep me on the right path."
Meanwhile, Vanessa Hudgens and Alex Pettyfer look on to another scene in this sneak peek for Beastly.
A behind-the-scenes look will air exclusively on Entertainment Tonight about the fantasy romance flick. In the movie, a New York teen (Pettyfer) is transformed into a hideous monster in order to find true love.
Vanessa and Alex have been bonding off the set as well as on. They were spotted getting a bite to eat last weekend. Vanessa had a special visitor this weekend — boyfriend Zac Efron.
Comments
comments