Miley Cyrus was spotted leaving her hotel heading for a concert in New Jersey on her sellout Best of Both Worlds Tour currently underway on December 30.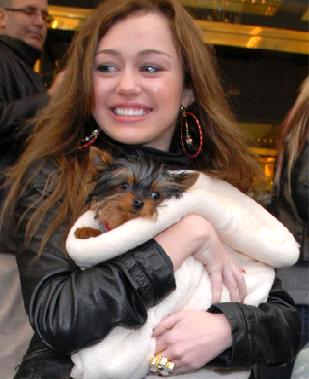 The 15-year-old star of the hit Disney Channel series performed at the Prudential Center, Newark, NJ, Sunday night.
The "Hannah Montana" star, who is stylishly attired, signed autographs for her fans, as her puppy looked on appearing snug and warm if a little bewildered.
Miley Cyrus wore dark blue skinny jeans with high-heeled knee high black leather boots. She matched the jeans with a gray sequined tunic, a black turtle neck sweater underneath, and a hip length classic black leather jacket to beat the cold. She carried a long strap shoulder bag and her right hand middle finger was adorned with black and red hoops and a chunky flower ring.
More than anything in her ensemble what made her standout was her lovely glowing skin, lustrous golden hair and endearing smile.
Also spotted up and about in Manhattan were Miley's father, Country singer Billy Ray Cyrus, and her younger sister Noah Cyrus.