Miley Cyrus has thrilled her fans and she even surprised "Nashville Star" judge Jeffrey Steele after the teen sensation made an impromptu appearance at a fund-raiser over the weekend in memory of Steele's son, who died last year.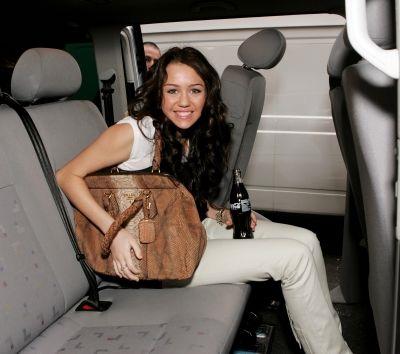 Steele's 13-year old son Alex LeVasseur, an avid skateboarder, was killed in an ATV accident in 2007, a tragedy that inspired his family to create The Alex LeVasseur Fund. On Sunday, Steele and his family presented the second annual Alex LeVasseur Memorial Skate Festival at Jim Warren Park in Franklin, Tenn., to benefit the fund – complete with a star-studded concert.
Grammy winner Michael McDonald performed, followed by Steele himself. Just two songs into his set, Steele surprised the audience by introducing Billy Ray Cyrus, who performed "Achy Breaky Heart" and a bluesy version of "Amazing Grace."
But it was Steele who was shocked when Miley bounded out onto the stage, and asked if she could perform "Simple Song," originally recorded by Miley and the only song written by Steele that was on his son Alex's iPod when he passed away.
An observer revealed, "When Jeffrey introduced Miley, all the kids who had been skating in the park next to the concert just rushed the stage. She was so full of energy, she just looked adorable. Jeffrey was clearly very touched by her appearance."
Miley Cyrus told Steele that her favorite song was "Hollywood Girl" and asked him to sing it with her. He said he would wing it because, "Miley might live in Hollywood, but in her heart, she'll always be our Tennessee girl."
Comments
comments