Miley Cyrus will be ringing in the New Year in a venue she rarely sets foot in: a high school gym.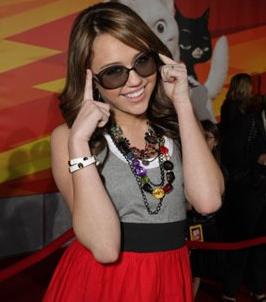 The "Hannah Montana star" will be performing live from the gymnasium of Beckman High School in Irvine, California, the prize from an MTV-sponsored contest held over the summer.
Last summer, MTV held a contest for high school students to win a live Miley Cyrus-headlined concert on New Year's Eve. And Beckman High senior Alison Kaprielian's hard work for the Pink Ribbon Club for breast-cancer awareness that clenched the prize for the school. Every audience member will wear pink for the cause.
Allie Sanchez, who is a member of the Beckman High School dance team that will join Cyrus onstage, revealed: "We are all so excited! We have been practicing all day."
Miley Cyrus showed up yesterday in Irvine, with her best friend Mandy Jiroux in tow. An MTV source revealed they surprised Kaprielian at her house and spent the day with her, saying: "Miley and Mandy surprised the girl at her house today. It was very cute.".
The Beckman High bash is open not only to students, but to Miley fans who scored free tickets on MTV's Web site.
The channel's New Year's Eve broadcast begins at 8 p.m. ET.
Comments
comments