Though they have apparently begun to patch things up, Chris Brown and Rihanna are still at the eye of a legal hurricane surrounding Chris' alleged Feb. 8 assault on the Barbados-born beauty.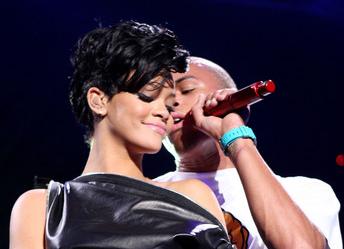 However, that's not keeping either of the young stars from moving forward with their recording careers.
In an interview with HipHollywood, Rihanna's producer Adonis talks about how recording her new CD is helping the 21-year-old to move on with her life.
"You have to remember, she's a kid still," explains Adonis. "So with anybody who goes through something in the world, you have to bring yourself out of it so I guess her refuge is her music."
The Grammy-winning producer even does a little bragging about the quality of the work he's doing with Rihanna, saying, "This is definitely going to be an eclipse of what she's done before."
Meanwhile, as it was reported last week, Chris has been recording at Glenwood Place studios in Burbank.
Comments
comments