Miley Cyrus is ready for Christmas as the teen sensation and her pal send Christmas wishes to fans.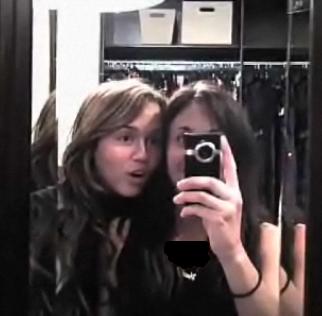 To celebrate the big day, the 16-year-old Disney sensation and her best friend, 21-year-old Mandy Jiroux, have posted a video sharing their joy.
The pair wish their fans Merry Christmas in a special episode of "The Miley & Mandy Show". They chose to release this one on MySpace.
On Mandy's MySpace Celebrity blog, the post indicated:
Girlz Just Wanna Have Fun

We've always suspected that Mandy Jiroux's life as one of The Beach Girlz and lead dancer for BFF Miley Cyrus must be one heck of an exciting thrill ride, but we had no idea exactly how much fun it is until Mandy shared with MySpace Celebrity a day in the life of a burgeoning superstar! Check out the newest episode of The Miley & Mandy Show for the latest on this dynamic duo!
On the video, the two pals are seen dancing and singing "We Wish You A Merry Christmas" and enthusing about the holiday season.
"I'm ready," Miley repeats to the camera as she dances with jingle bells in the background.
Check out the myspace for Mandy & Miley's merry MySpace moment
Comments
comments