Wizards of Waverly Place star Selena Gomez and friends Bridgit and Jenn serenade fans and wish them Merry Christmas in this YouTube video shot in a classroom.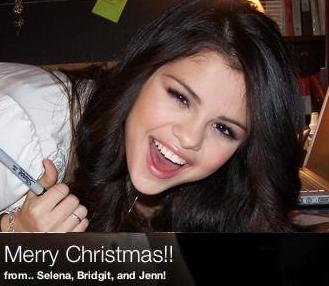 On the video, the caption include: Merry Christmas from Selena, Bridgit and Jenn, I did do my school after this, sorry Ms. Daphne and Hope you all have happy holiday! God bless!
The 16-year-old young star, splits her holidays with her separated parents, spending Christmas Eve with her dad and Christmas Day with her mother.
An only child, Selena Gomez was raised in Grand Prairie, Texas. Her father, Ricardo Gomez, is from Mexico and her mother, Mandy Teefey, is of half Italian descent.
Selena Gomez revealed in a recent interview that her mother had her when she was 16!
She has vowed to practice abstinence until she is married and wears a purity ring on her left ring finger that says "True Love Waits".
She terms the vow "a promise to myself, to my family and to God… People say, 'She's trying too hard.' I'm not trying to be anybody but myself," she said.
Comments
comments