Disney star Miley Cyrus has been involved in another photo scandal after an Internet hacker accessed her phone's memory and found a series of saucy snaps.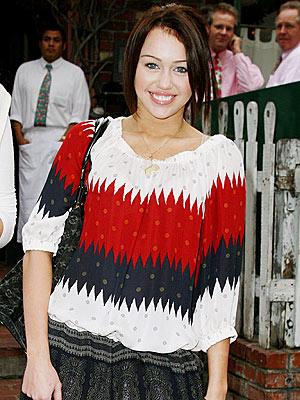 The new pictures, which you could see here, allegedly show the singer posing seductively in the shower with only a wet t-shirt covering her modesty, as well as a photo of her showing off her stomach in a skimpy top.
The snaps were reportedly downloaded from the star's personal picture phone memory by a hacker calling himself the "Digital Gangster." A hacker claims the photos are part of a lot Miley emailed to Nick Jonas in 2007, and he obtained them by accessing her email.
According to a report, the hacker is shopping the snaps around to several publications in the hope of landing a big paycheck. And Digital Gangster claims to have a whole host of raunchy snaps he has found on the 15-year-old's phone.
Miley Cyrus has been involved in several photo scandals this year, including her highly controversial Vanity Fair cover shoot in May, in which she is shown posing with a satin sheet.
More risqué photos of Miley Cyrus have surfaced on the Internet, one of which shows Miley wearing a
'Nick J' necklace. Another photo, which was taken when the actress was was 14-year-old, showed Miley Cyrus poses provocatively standing under a shower with her clothes soaked. The other photo shows her blowing a kiss at her camera phone with her tee folded up to reveal her midriff.
The teen sensation has been involved in photo scandals since a set of photos posted on the Internet in January, showed her posing in underwear. The photos were believed to have been hacked from Miley's Myspace page.
A second set of photos was leaked in April, one of which showed the "Disney" star teasingly pulling her tank top down to expose a fledgling cleavage and green underwear. Another one showed her lying in the lap of a young male wearing a midriff revealing short top.
Comments
comments