Contrary to her denial that she is dating Liam, Miley is said being seen kissing the Australian actor at Nashville International Airport.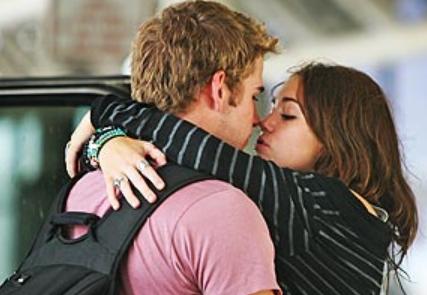 Rumors of Miley Cyrus dating Liam Hemsworth, her on-screen lover in upcoming movie "The Last Song", are heating up as they reportedly have been spotted kissing. New York Daily News broke the report on Friday, August 21, claiming an eyewitness caught the co-stars "indulging in a steamy makeout session" at Nashville International Airport on Wednesday, August 19.
Weekly magazine People also runs similar story while at the same time provides an exclusive photo of Miley putting her arms around Liam's neck. The publication cites New York actor named Alex Emanuel, who was a few feet away from the couple, as informing the two were "full-on making out" and the Disney actress was acting "as giddy as a schoolgirl."
Liam made his way out of Miley's truck with his luggage and was heading for the terminal doors when "she jumped into his arms and threw her arms around his neck and kissed him and leaned back and he was dipping her," Emanuel tells People. "It was like a scene out of an old movie where the guy's getting on a train and they're saying their goodbyes."
Report on the matter is quick to make its way all over the web and Miley has updated her Twitter with a post that read, "I do not have a boyfriend. Stop wasting your time making up lies. I would be so depressed if that was my reason to breathe." As for Liam, he hasn't made any statement on the matter just yet.
Miley Cyrus and Australian actor Liam Hemsworth star as love partners in drama movie "The Last Song", which is slated to hit theaters in U.S. on January 8 next year. They reportedly attended the film's wrap party together on August 16.