Miley Cyrus is hoping Leonardo DiCaprio's romance with supermodel Bar Rafaeli sinks like the Titanic because she's destined to be the movie hunk's wife.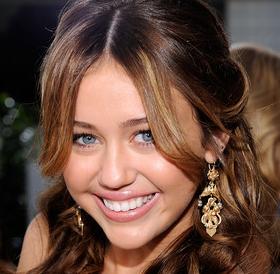 The pop star came clean about her crush after spotting DiCaprio at the Golden Globe Awards on Sunday (11Jan09).
She revealed: "I saw my husband, Leonardo DiCaprio. I didn't meet him. He doesn't know I'm his wife but I will be one day."
Meanwhile, before her pampering and glamorizing session for this year's edition of the Golden Globes Awards, the "Hannah Montana" star stopped by at Millions of Milkshakes to get her very own Miley Shake, which consists of a mixture of vanilla, cookie dough, Reese's peanut butter cups and whipped cream.
She also received a Golden Globe nomination for her song "I Though I Lost You" from the Disney movie Bolt but she is not expected to perform at the event.
She was also seen as she arrived at the 66th Annual Golden Globe Awards held at the Beverly Hilton Hotel on January 11, 2009 in Beverly Hills, California.
Comments
comments