Miley Cyrus has no beef with her former boyfriend, Nick Jonas. Or his brothers.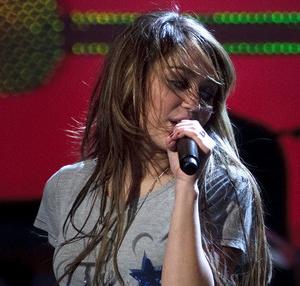 The 16-year-old singer said in her latest YouTube video: "I know you guys saw me, I was hanging out with the Jonas Brothers at the inaugural [concert]. That was really good. And we are friends … I love the JoBros."
Her hit song "7 Things," may have been about Nick Jonas (and inspired by heartache), but Miley Cyrus says she has no ill feelings toward her former boyfriend. She was even spotted hugging Nick at the Kids' Inaugural Concert on Monday night.
She revealed in a video posted on her Web site, Miley World: "I love Nicky. I do love him. I love Kevin. I love Joe. I love Frankie. I love all the boys and I love their family. So everyone should back off the feud 'cause we're over it."
In fact, the 16-year-old Hannah Montana star says she enjoyed "hanging out" with the Jonas Brothers when they performed at the at the Kids Inaugural Concert on Monday.
As for persistent rumors that she doesn't get along with her fellow Disney stars, Selena Gomez and Demi Lovato, Cyrus says that's far from the truth.
She said: "So everyone thinking there's a big feud between me … and Selena and Demi. Actually, I'm going to have meatloaf with Demi tonight. I'm riding my bike to Demi's house. So I'm going to be partying with Demi 'cause we're friends, and I love her and she always is there for me. She is one of my bestest friends."
She revealed that not only is she "going over to have meatloaf with Demi tonight" but that she "love[s] her more than anything in the whole wide world."
Before signing off, Cyrus told fans, "And so we have moved on and it's good for everyone else to too … so everyone needs to back off the feud, 'cause we're over. I've always been one to be honest."
She added at the end of the video, before blowing a kiss and thanking her fans: "I think I got this all of my chest."
Comments
comments