Grabbing up a midday meal, Miley Cyrus headed over to Dan's Sushi in Studio City with BFF Mandy Jiroux on Saturday (March 21).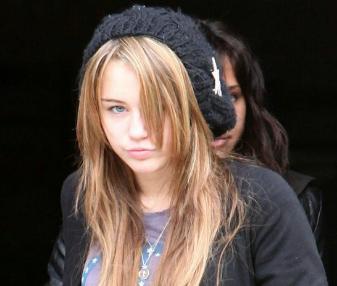 According to paparazzi on the scene, the "Hannah Montana" starlet was unusually shy, as she hid her face from cameras, but still smirked when photographers called out her name.
The duo just uploaded a new video on their official YouTube. Miley,16, and Mandy, 21, are looking for ideas for their next video. All you need to do is comment on their newest video.
Miley and Mandy also promise a special, surprise guest in their next video.
Meanwhile, Miley Cyrus and her BFF dancer Mandy Jiroux get giggly in their new video that they just posted.
The duo were sure to remind everyone about voting for the Kids' Choice Awards which happen on March 28 (next week!). Miley is nominated for a slew of awards!
Miley shared, "Do you remember last year's Kids' Choice Awards? We had so much fun! I did 'G.N.O.' It was like Grease. And the car. You (Mandy) had to drive the car because I couldn't drive yet."