Miley Cyrus was "upset" to learn a mother of a "Hannah Montana" fan faked a competition entry to win tickets to a sold-out show by pretending the girl's father had been killed in Iraq.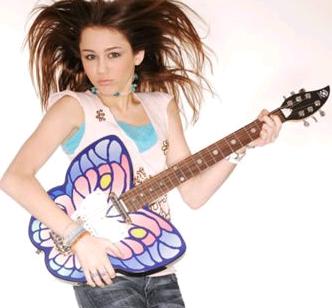 The 15-year-old teen star was shocked to hear that Texan Priscilla Ceballos had submitted the fictional, contest-winning essay earlier this month. The opening line of Alexis' essay read, "My daddy died this year in Iraq." But Priscilla confessed, "We did the essay and that's what we did to win. We did whatever we could do to win."
In an interview, Miley Cyrus revealed, "I was really kind of upset. I mean, that's just not a cool scenario. But it just shows what people will do for a ticket."
As for terrorist attack, a teenager from northern California has been arrested for allegedly planning to crash a plane into a Miley Cyrus concert. The FBI detained the unnamed 16-year-old after smuggling handcuffs, duct tape, rope and other items on to a flight from Los Angeles on Tuesday.
Although there was no incident on the plane, the FBI have accused the boy of hatching plans to hijack the jet and direct it into a stadium in Lafayette, Los Angeles, where the pop star was performing, according to a report.
A spokesman for the FBI revealed, "He had some general plans where he was going and indicated where he wanted to die." However, it was later confirmed that the date of Hannah Montana star Cyrus's concert in Lafayette was actually scheduled for January 25 – three days after the attempted attack on January 22.
Miley Cyrus is in the middle of her "Best Of Both Worlds" tour, which will see the star play 69 live shows concluding in Miami, Florida, on January 31.
UPDATE: A report indicated that the teenagerwho allegedly plotted to hijack a plane was not planning to crash it into Miley Cyrus' Hannah Montana concert, according to FBI spokesman.
Authorities arrested the teen Tuesday after a flight from Los Angeles to Nashville. The teen had handcuffs, rope, and duct tape in his possession when he was apprehended.
A mock cockpit was also found in the suspect's home. Authorities believe the teen, who has not been identified by authorities because he is a minor, was suicidal.
The teen, who could face federal changes including felony terrorism, is being held at a juvenile detention center.
Comments
comments