Miley Cyrus doesn't regret her controversial, semi-topless Vanity Fair spread shot by Annie Leibovitz earlier this year. In fact, she says the pictures inspired her to want to be a photographer.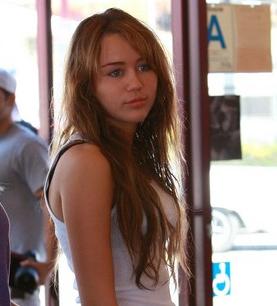 The "Hannah Montan" star revealed: "Everyone outside of America liked it a little bit more because that's more like the style, but the States are really conservative."
After the photos were published in June, the Disney star said she was "embarrassed" and called the shoot "a mistake." The Hannah Montana star – who recently celebrated her 16th birthday – was only 15 years old when she appeared in the magazine with only a blanket wrapped around her chest.
She continued: "Guess I just had to deal with that and just realize that I got to work with an amazing photographer. She was amazing and so talented and her lighting… I would love to work with her again. But I realize I'm just a kid."
Miley Cyrus even said she's considering ditching performing to step behind the camera as she explained: "That's what I want to do with my life. I would love to be a photographer. I want to come to London to study. I hear there are some great art schools here so I would love to do that."
Meanwhile, the singer also opened up about another topic that has people buzzing: her 20-year-old underwear model beau Justin Gaston.
She shared: "I'm surrounded by good-looking guys, the models, the actors, this and that, so it ends up not being about that. It ends up being about the personality and the way someone treats you."
The teen sensation said: "Also, being around so many actors, I feel a lot of people treat them really badly. If anyone treats people really sweet, then that's what's really appealing."
When asked how do her parents feel, she added: "My parents are really chill with me until I give them a reason not to be!"
Comments
comments