Nicole Kidman, who looked gorgeous, adjusted her golden hair with her hand.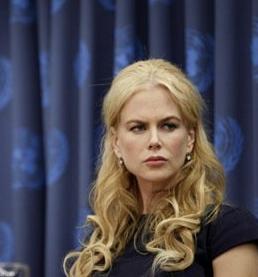 The "Batman Begins" actress gently placed her left hand on her baby bump made a speech during UNIFEM "Say No to Violence Against Women" campaign at the United Nations in New York, April 22.
The actress, who was a UNIFEM Goodwill Ambassador, announced on January 7 that she was expecting her first biological child with her country singer husband Keith Urban.
The actress revealed that she was three months pregnant. The 40-year-old star has kept quiet about the sexuality of her unborn child by simply saying that her revelation is a "secret".
She has suffered miscarriages in the past, already has two adopted children namely 15-year-old Isabella and 12-year-old Connor, with her former husband Tom Cruise.
The celebrity couple previously met at a black-tie ball for Australians living in Los Angeles in summer 2005.
Comments
comments