Nicole Kidman looked resplendent at the premiere of her new film Australia held at The Ziegfeld Theatre in New York City on Monday, November 24.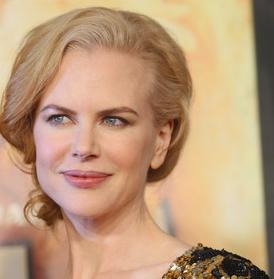 The 41-year-old actress, who attended the event with her husband Keith Urban, looked elegant with her golden and black mega sleeve Dries Van Noten sequin dress with a belted waist.
The Oscar-winning actress accessorized with black Pierre Hardy pumps and a gold arm cuff on her right arm. She styled her red hair in a loose messy hairstyle. Her husband matched his looks in tuxedos and a black tie.
In the Baz Luhrmann film, Nicole Kidman played the role of English aristocrat Lady Sarah Ashley who inherits a remote cattle station just before World War II. When cattle barons threaten to take her land, she reluctantly joins forces with an enigmatic drover, played by Hugh Jackman, in whom she becomes romantically interested. He helps to drive the cattle across the property as they are under the threat of nearby Darwin being bombed.
Baz Luhrmann, who is a perfectionist director, was so busy editing the film till the end that the cast got to see it just before the world premiere in Australia.
The two-hour 40-minute long Australian period epic with a budget that reportedly exceeded $130 million, is the most expensive film ever made Down Under.
Asian-inspired costumes of the film to evoke the romanticism of the era were designed by the Academy Award winning costume designer Catherine Martin.
The movie was to be released on November 13, 2008 in Australia and November 16, 2008 in the United States, however, Fox pushed back the release dates in both Australia and the United States to 26 November 2008, with subsequent worldwide release dates throughout late December and January 2009.
Comments
comments