Nicole Kidman, who previously showed off her daughter in Paris, arrived at the London premiere of her film Australia wearing a dazzling white dress.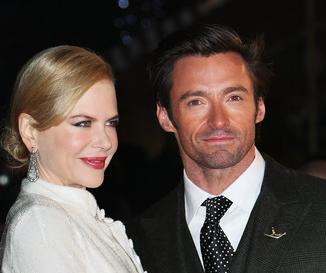 The stunning actress appeared on the red carpet with her co-star Hugh Jackman. They were joined by Sir Elton John, Twiggy and television presenter Konnie Huq among other celebrities at Leicester Square's Odeon cinema.
Baz Luhrmann, who is the director of the film, revealed: "I think there is a special relationship between Australia and England and actually my films were discovered here. Strictly Ballroom was discovered in London and it ran for 10 weeks at number one, it was so unexpected. And here I am back after all these years with this film. It feels good, it really does."
Oscar-winning costume designer Catherine Martin added: "It's always very exciting. This is our fourth film we've premiered in London. We have a lot of friends here so there are nerves and excitement because we want all our friends to like the movie, but it's a great town to be in."
Nicole Kidman braved the cold in her sparkling white dress and gold heels, but resorted to a chic black overcoat for warmth as she signed autographs for fans.
The Oscar-winning actress said of the film: "I hope people like it and it makes them fall in love with my country. I hope they realize it's funny and romantic and it's a popcorn movie."
Nicole Kidman recently said she would be giving up acting to spend more time with husband Keith Urban and daughter Sunday Rose, born this year. Asked if this could be her last film role she laughed: "Close to it."
Hugh Jackman insisted he is nothing like his stereotypical Aussie macho character Drover, saying: "He's a pretty classic archetypal male macho Aussie bloke. I'm just like him! No, there are differences. I'm not that tough. I actually fainted on the very first day of filming so that wasn't very cool. That kind of gave me away a little bit."
Nicole Kidman, who played the role of English aristocrat Lady Sarah Ashley, said she would treasure the memory of living on location in the Outback for ever. She explained: "It was amazing. I remember I'd watch the sunset and Keith was there with me and I would say 'We are going to remember this for the rest of our lives.' It's imprinted now."
Comments
comments