Nicole Kidman was spotted with her husband Keith Urban as they stopped by a local coffee shop in Nashville recently.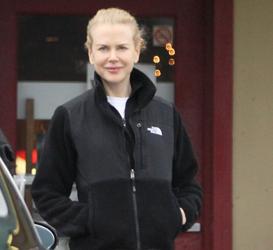 As new parents hosting the holidays for visiting relatives, the couple looked a bit worse for wear.
A festive and cheerful Christmas tradition and the very first celebrated by young Sunday Rose seemed rather solemn and demure as Nicole looked expressionless as they exited the shop, better dressed for the gym than the joyous holidays.
However with her parents, sister, niece and nephew in town, Nicole seemed dead set of expressing a bright, cheery and eager expression to face the day.
Meanwhile, the couple was also seen taking their adorable daughter, Sunday Rose to Christmas morning church service on Thursday (December 25) in Nashville, Tenn.
The actress recently recently promised Sunday "a lot of hugs and kisses and Christmas carols."
On Tuesday (December 23), the couple was spotted lunching over salads and sandwiches at Nashville's Bread & Company, one of their favorite local eateries.
Comments
comments