Prince Harry was spotted as he downed beer through a hosepipe in a final bender before quitting booze for a year.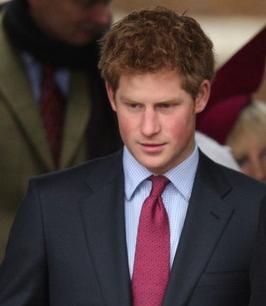 His friends cheered when the party-loving prince swigged a local brew on Mauritius.
The drinking game started within hours of Prince Harry, 24, arriving on the holiday island at the weekend.
Standing on a balcony, he was seen throwing back his head and putting the length of hose to his mouth, swallowing the ale in seconds.
A witness revealed: "[Prince] Harry and his friends were having a great time. They were daring each other to down drinks through the pipe."
The witness added: "[Prince] Harry didn't go first but it looked like he was one of the more experienced drinkers. He looked like a man on a mission to enjoy a few pints."
The light-hearted session comes just days after Prince Harry was reported that he will go on the wagon in 2009 when he begins an intensive helicopter pilot course in mid-January.
The Prince must adhere to the Army Air Corps' strict drinks ban, keeping him off alcohol for months.
The onlooker added: "If he has a dry year, who can blame him for knocking them back here."
Prince Harry is with his girlfriend Chelsy Davy, 23, and her family. He flew there on Boxing Day after Christmas festivities with The Queen at Sandringham.
Comments
comments