Nicole Kidman has angered indigenous Australians by attempting to play a didgeridoo while promoting her new film Australia on a German television program.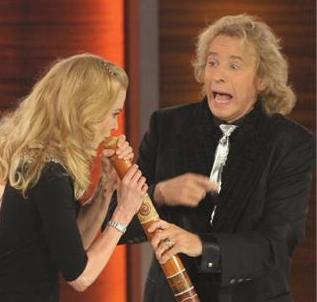 The stunt flouts an Aboriginal custom that dictates women are forbidden to play the instrument.
The Oscar winning actress made the faux pas on the weekend during Wetten Das…? a popular chat show.
During the show she blew feebly into the didgeridoo as Australia co-star Hugh Jackman mimicked one of the Aboriginal actors in the film by standing on one leg.
Nicole Kidman's performance has been criticized by Aboriginal leaders, who said she should know better.
Allen Madden, cultural and educational officer at Sydney's Aboriginal Land Council said the film's director Baz Luhrmann should have educated his cast about Aboriginal traditions.
He revealed: "I presume she doesn't know, otherwise she wouldn't have been playing it. But (I would have thought) the women on that set would have told her. Baz should know something about it."
The didgeridoo is said by some Aboriginal groups to make women infertile.
Nicole Kidman's slip up comes after an Australia-related tourism advertisement was criticized for promoting a sacred Aboriginal site without permission.
Comments
comments