Nicole Richie, who is the Hollywood's former wild child, has shown that she experienced domestic bliss with her daughter Harlow.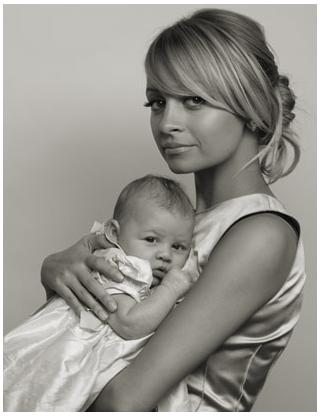 The "Simple Life" star has posed for Harper's Bazaar magazine on rear deck of her house in Glendale, Los Angeles suburb.
Nicole Richie and Joel Madden hung the netting when Nicole was nine months pregnant, to foil the helicopters constantly flying overhead.
She admiringly asked, "Didn't [Penn] write in rocks, like, 'F**k you' or something?" She also showcased her handiwork, which, as new daughter Harlow turns two months old, is only now being taken down.
Wearing a loose top, skinny jeans, and flip-flops, Nicole Richie apologized for arriving late from her acting class. Joel, lead singer of the rock band Good Charlotte, left yesterday for a three-week tour of South Africa and Europe (with twin brother Benji and his unlikely new consort, Nicole's BFF Paris Hilton), so she is rattling around her dark, Gothic "hippie household" with baby and her assistant. The living room is covered with religious art, baroque mirrors, angel heads, and half-burned candles. Pride of place is a framed Good Charlotte Rolling Stone cover. Harlow can be heard gurgling upstairs in her Peter Pan-themed nursery.
Nicole Richie retreats to the deck, munching on watermelon from a Tupperware container. What surprises her most about motherhood? She revealed, "Hmm, I would say how fun it is. Everybody talks about how difficult it is in the first three months, but I absolutely love it."
Mary-Kate Olsen, who was a close friend, revealed, "Nicole is one of the most loving and nurturing mothers I have yet to come across."
But father Lionel Richie knows best, saying, "Motherhood has given her all the keys to understanding how her mother and I were trying to raise her. Now it has come full circle."
Comments
comments