Nicole Richie showed off her baby bump as she arrived ready to indulge her pregnancy cravings at LA pizza parlor Maria's Italian Kitchen.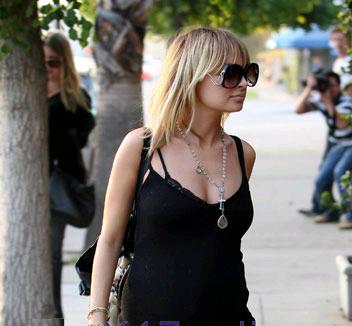 The "Simple Life" star, who was approximately seven months pregnant, got a boho chic look during her outing. She wore a flowing skirt, black vest, and gladiator sandals. Her outfit was matched with her trademark oversized sunglasses.
The socialite had a baby shower was attended by around 90 guests. One guests arrived with a pair of baby sneakers for a boy, and a maternity tee with a picture of a boy on the front. However, Nicole and her rocker boyfriend Joel Madden decided to donate most of the gifts to charity through their newly-formed Richie Madden Foundation.
Rashida Jones, one of the guests, revealed, "It's really sweet. With all the swag these days, we're given so much stuff it's almost wasteful, and it's kind of nice when we're giving to each other to give to someone else."
The celebrity couple will keep a small selection off gifts including one book from each guest to help build the baby's library.
Comments
comments