Her back is turned to camera, her face shrouded in murky shadow and a spitting snake resemblance hair. But there's still no mistaking the sexy actress is posing in this racy shot from her new film.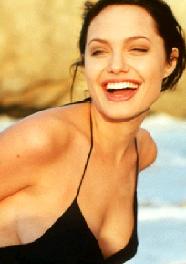 Angelina Jolie, who experienced dramatic weight loss, has been transformed into the mother of Grendel the monster, the father of all-evil from Anglo-Saxon mythology, for the adult fantasy film Beowulf.
The actress joins British actors Ray Winston, who plays her evil son, and Sir Anthony Hopkins who plays King Hrothgar.
Winstone has also been given a virtual Hollywood makeover, losing his beer belly, to remake his portly British frame into that of a comic book superhero with the help of skilled digital imaging.
"Beowulf" is described by the Los Angeles times as a "hyper violent and highly sexualized tale".
The warrior Beowulf (Ray Winstone) must slay the monster Grendel (Crispin Glover). Later, Grendel's mother (Jolie) seduces Beowulf so that she can produce a replacement heir that will allow her to re-establish her dominion over the kingdom.
Die-hard fans of the comic book genre would have a sneak peak at the 3-D digital version of the film at a comic convention, Comic-Con, in San Diego.
Comments
comments