Barack Obama was interrupted at a rally today at the University of Miami after almost a dozen protesters began to wave homemade signs.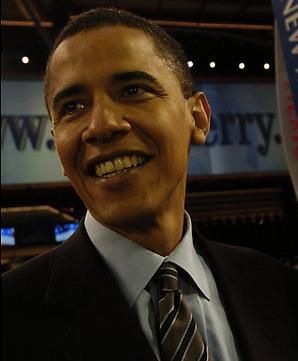 Senator Barack Obama spent about half of his 40-minute speech attacking McCain's position to overturn Roe vs. Wade, opposing a bill that would have made it easier for women to sue their employer for equal pay and calling for a commission to study the meltdown of the country's financial markets.
The Democratic presidential candidate revealed: "We've had enough of the same failed, trickle-down, on-your-own economic philosophy that's gotten us into this mess. Enough of the same policies that keep women from being paid what they're deserved and having to choose between their kids and their careers."
About 10 minutes into his speech, Obama was interrupted by a group of protesters holding signs that read, "Blacks Against Obama" and "Jesse Jackson Hates Obama."
A small group of 10 protesters interrupted a Barack Obama campaign rally. The group of mostly African-American men held up signs reading "Jesse Jackson hates Obama", "Obama for abortions", "Obama for gay marriage", "Blacks against Obama", and "Obama endorsed by the KKK."
The men are believed to be a part of the Miami-based group known as "Michael Warns." In attendance was a crowd of about 5,000 people, who shouted down the protesters by chanting "Yes we can!"
The protesters briefly interrupted Obama's message, when he paused and tried to calm down the crowd. The Democratic presidential candidate declared: "Hey young people out there – it's no problem for you to put your signs up, but let everybody – let me finish what I have to say, alright?"
Shortly afterwards the men were escorted out by security. As they were leaving, Barack Obama added: "Alright guys, see ya. Alright, let's get back to work."
A similar group appeared at a Tampa Obama event in August.
Comments
comments