The presidential campaign of Barack Obama, which attracted a lot of songs from stars and amateurs, got an official soundtrack.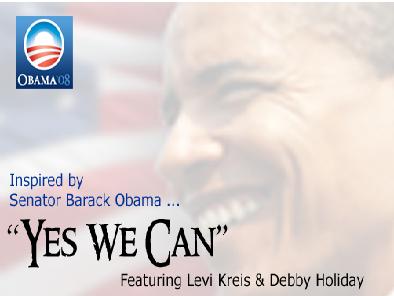 The official soundtrack "Yes We Can: Voices of a Grassroots Movement," which its title was inspired from Obama campaign slogan, features Kanye West, John Legend, Sheryl Crow, Stevie Wonder and others. The soundtrack is exclusively available for sale through Obama's campaign starting Friday.
The proceeds from the sales of CD ($24.99 for a digital download, $30 for a physical product) would go to the Obama's campaign fund until Nov. 4, Election Day, according Hidden Beach Recordings, which created the CD.
Most of the songs on the disc have been previously released like John Mayer's "Waiting On the World to Change" and Stevie Wonder's classic song "Signed, Sealed, Delivered I'm Yours," but fans should not worry since there are few of the songs are fresh and new such as John Legend's "Pride in the Name of Love" and "Promised Land," a song by Malik Yusef featuring Kanye West and Adam Levine of Maroon 5 to name a few.
The "Yes We Can" CD is only the latest musical project inspired by Obama.
While Republican presidential hopeful John McCain has had songs penned for him, such as "Lead the Way" by a lawyer named Judd Kessler, he has not inspired the same groundswell of musical support.
The McCain camp revealed they did not have any plans of releasing a CD of its own and greeted news of Obama's with a dig. Their spokesman revealed: "It's ironic that on a day when the economy is in turmoil, Barack Obama fails to release an economic plan, but instead chooses a celebrity rock album."
Barack Obama declared on Friday that he was holding off on detailing his plans for the nation's credit crisis because he did not want to risk roiling the markets at such a sensitive time.
After the election, the CD is due to be released through other outlets.
Comments
comments