Barack Obama did not just draw 80,000 supporters to Invesco Field in Denver for his address to the Democratic National Convention. The Democratic presidential hopeful also garnered 38 million television viewers, according to a report.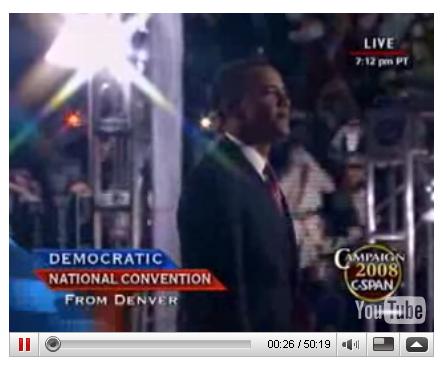 The television rating shows that more people watched him accept his party's nomination on Thursday night than the Olympics opening ceremony in Beijing, the "American Idol" finale or this year's Academy Awards.
His speech was also the most-watched convention in history. In comparison, John Kerry's speech in 2004 drew 24.4 million viewers and George W. Bush's was watched by 27.5 million.
Emotional stars like Oprah Winfrey had nothing but praise for the historic event.
Oprah Winfrey revealed: "Just seeing him on stage, I cried my eyelashes off. I've never experienced anything like this… I think that what he had to offer the country tonight will make us all better."
Barack Obama accepted the Democratic Party's nomination for president in front of 80,000 people Thursday night by proclaiming: "America, we are better than these last eight years.
He revealed in a 42-minute speech at Invesco Field in Denver: "We are a better country than this." The Illinois senator described his life as the result of the "American promise" and slammed Republican opponent John McCain for being out of touch.
He continued: "I don't believe that Senator McCain doesn't care what's going on in the lives of Americans — I just think he doesn't know. John McCain doesn't get it."
Obama also responded to McCain's charge that he's more like a celebrity than a leader by recounting his humble roots, adding: "Now, I don't know what kind of lives John McCain thinks that celebrities lead, but this has been mine."
Comments
comments