Prince Harry has urged Army bosses to return him to the front line in Afghanistan.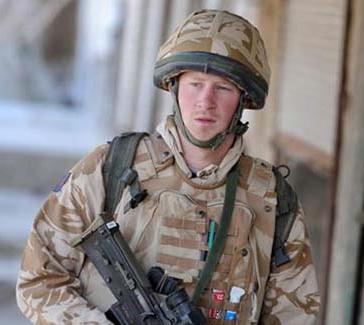 The prince, who is third in line to the throne, had a successful first tour of duty in the war zone earlier this year. Now he is desperate to go back for another encounter with hostile Taliban forces.
The 23-year-old prince and members of his Blues and Royals regiment will resume training at Windsor's Combermere Barracks next week. He will not immediately prepare for war but concentrate on normal regimental duties.
Meanwhile, top brass will try to decide if — and how — he can return to Afghanistan to fight.
A Blues and Royals source revealed: "[Prince] Harry has made no secret of the fact he wants to be there when the regiment returns to the front line next year.
The source added: "He said the experience of leading his men into battle is one he hopes he can repeat. And with one mission under his belt, he has the skills and experience which will make him an extremely valuable member of the battle group."
The Prince will begin work almost immediately with a two-week exercise on Salisbury Plain.
Then early in 2009, he is expected to take part in a full-scale live firing exercise in Canada.
The Blues and Royals will continue building their skills until April when they will go on full battle footing and begin six months of intensive tactical training to prepare for Afghanistan.
The Ministry of Defence struck a deal with the media to allow Harry the chance to fight in secret last year. However it is thought this arrangement was a one-off that is unlikely to be repeated.
Comments
comments