Is it possible that the troubles of Owen Wilson will affect Jennifer Aniston? The two Hollywood stars are already announced as co-stars for the comedy "Marley & Me" and the movie is based on the John Grogan best seller about a persistent Labrador retriever. There is a report that Owen's problems would be an issue.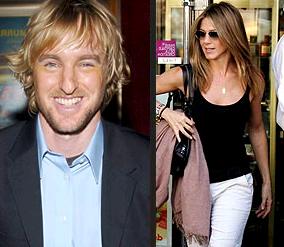 Owen Wilson is currently seeking a treatment for reported drug abuse and a failed suicide attempt. There is a possibility that Jennifer Aniston may need to line up a new costar for the film adaption of the best-seller.
A producer revealed, "It will be tough to [insure] him right now. A big studio may not want to take the chance that he could slip again. They may have no choice but to recast him."
The representative for the 2oth Century Fox studio revealed, "It's a totally inappropriate question when all our thoughts and concerns are with his health and well-being."
As for other film project, it was announced that Owen Wilson dropped out of Ben Stiller's comedy Tropic Thunder, which was to start filming in two weeks.
Comments
comments