Pamela Anderson, who is a vegetarian and an advocate for animal rights, takes her clothes off for PETA's new lettuce ad.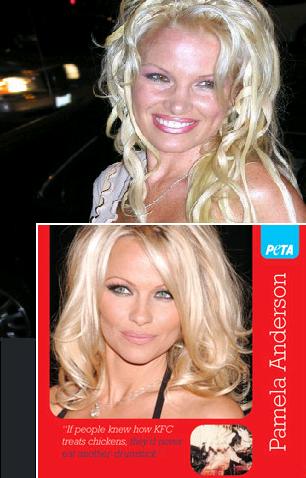 The busty blonde shows off her curvy figure, posing [email protected] with lettuce leaves strategically placed covering her breasts and lower part, which you could see here.
She is an active member of the animal protection organization People for the Ethical Treatment of Animals (PETA),
As a member of PETA, the "Playboy" model has been against the use of fur and stripped down for PETA's "I'd Rather Go [email protected] Than Wear Fur" advertising campaign. She was taking part in several campaigns for animal rights. She also became a vegetarian in her early teens when she walked in on her dad slaughtering an animal he had just hunted.
She has also actively campaigned against Kentucky Fried Chicken. In 2001, Anderson released a letter in support of PETA's campaign against Kentucky Fried Chicken, stating "What KFC does to 750 million chickens each year is not civilized or acceptable."
She later made a video about KFC's treatment of chickens and she has also campaigned against seal hunting in her native Canada.
Comments
comments