Paris Hilton is set to host a baby shower for long time friend and "Simple Life" co-star, Nicole Richie, according to a report.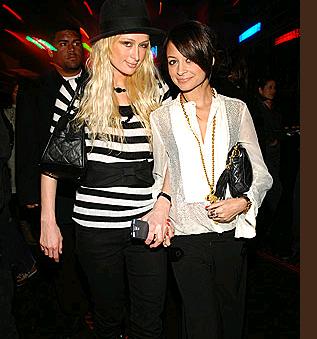 Paris Hilton is still figuring out the details of the shower that is reportedly only days away, saying, "I honestly don't know what you play at a shower. Maybe I'll find a book or something to get some ideas."
The hotel heiress continued, "I don't know what to get her. Because most of us don't know yet what she's having. She doesn't know if she's having a boy or a girl. I thought for sure she'd want to know, but she decided to wait."
Brenda Harvey-Richie, Nicole's mom, is reportedly working with Paris, along with party planner Mindy Weiss.
Paris Hilton is excited to have a guy-free night, adding, "It's going to be really nice, with just us girls. Just Nicole's closest girlfriends and female relatives."
A baby shower thrown by Paris Hilton wouldn't be complete without the music. Paris has reportedly enlisted the spinning skills of DJ star Samantha Ronson to drop the baby-friendly beats.
The menu reportedly includes a lavish spread of delicious food and nonalcoholic cocktails.
Nicole Richie and Good Charlotte front man Joel Madden are expecting their baby in the early 2008.
Comments
comments