Paris Hilton has slammed reports she was turned away from a Los Angeles pet store earlier this month, insisting the false stories have "gotten out of control".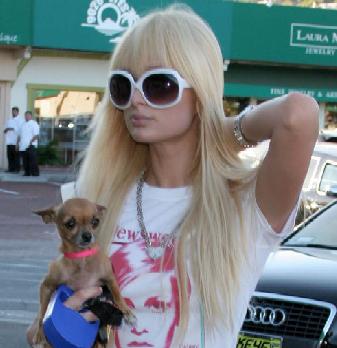 According to the report, the hotel heiress was on her way to a photo shoot when she stopped at
The Puppy Store on Melrose Avenue to buy a Yorkie dog to accompany her in the shoot.
The claim also indicated that the socialite was banned from doing so by one of the store workers because they saw it as "an impulse buy".
Now, Paris Hilton has hit back at the allegations, saying that she "loves" her pups and would never treat them as "accessories". And the star, who is currently dating Good Charlotte rocker Benji Madden, claimed that she wasn't even at the store at the time of the alleged incident.
According to her blog, she wrote, "I wanted to let you know that I've been getting messages and reading stories about an incident that supposedly happened with me and a pet store: I was catching up on news last week only to read a story about me walking by some puppies for sale, and demanding that I be given a Yorkie puppy to be an accessory for a photo shoot. These stories have gotten out of control and I want to clear some things up."
She also wrote, "I wasn't looking for a new pet, I wasn't even at a photo shoot that day, (I was down the street at Benji's Dcma clothing store) and I actually have a Yorkie puppy. I love animals and the cruel things people say are not acceptable. Puppies are not accessories or toys and I love my own pets dearly-I treat them as if they were my children… So it is sad that someone felt the need to invent a story about me throwing a fit for a dog that would 'go with my outfit.'"
She added, "I have no idea where people come up with these stories and they are spreading to so many news outlets that I just have to speak my mind and clear things up, especially with my fans."
Comments
comments