Paris Hilton, who is reportedly in talks to be a hospital's ambassador, heads for a Playboy party wearing only her underwear.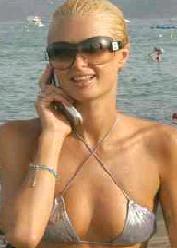 The socialite, who was with her younger sister Nicky, has sparked the idea that she will change her wild behavior. She is initially wears a silver leopard-print coat and was spotted carrying Bible.
Eventually, the hotel heiress was spotted dressing in stockings and suspenders for a weekend bash at Playboy Mansion.
One spectator revealed, "It looks like she's thrown her Bible away."
You could see her photo here.