"Girls Next Door" star Holly Madison has confirmed that she and Hugh Hefner are officially over.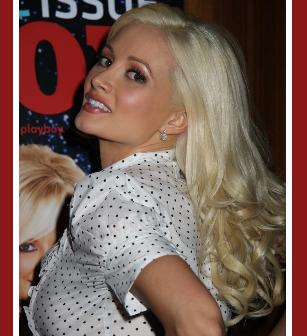 When asked if she can get Hugh Hefner into an upcoming Halloween bash at the Playboy mansion, she replied: "I have no pull anymore. Hef and I aren't together."
The sexy blonde also revealed that she is still "still filming stuff together" with Kendra Wilkinson and Bridget Marquardt, saying: We're having fun."
She talked about their upcoming sixth season, adding: "It's going to be even better. We love season five, but I think every season gets better."
Madison's new comments come days after Playboy boss denied reports of a split.
Hugh Hefner said at last week's FOX REALLY Awards Show taping in Hollywood: "It's all rumors without question. We have just completed our fifth season, and we're all still together and have just signed on to a sixth season, which we start filming in the new year. There may be some transitions to the relationships though, we'll see."
Last month, Hefner confirmed that he and Madison's relationship was "in transition," explaining: "She is still my girlfriend. Now will that last? I don't think anything lasts forever. I love her very much, but you know, she wants very much to get married and have children. That isn't very much in the cards for me. So there has to be a certain reality there."
In more news for the "Girls Next Door" blondes, Debra a report suggested that while Holly Madison was holding what appeared to be a very quick impromptu street side revelation announcing the split with Hef, her busty pal Kendra Wilkinson was busy looking at more models in bikinis as she was a judge in a sexy swimsuit contest.
Comments
comments