Britney Spears, who dons a wig and glasses, transforms herself into three sexy characters in her new video.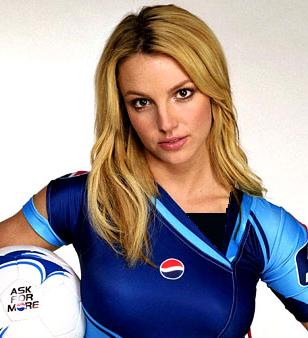 "Womanizer" will be premiered in the US this Friday but we have obtained these pics of the singer dressed up as a sexy secretary, waitress and real-life Britney.
Britney loses her long blonde locks for both secretary and waitress roles.
She has a short black bob while performing a lap dance in an office in secretary mode and has a Gothic appearance serving tables as a waitress. She was dressed in a '50s-era pencil skirt and fitted sweater for secretary role. The waitress role shows a leather-clad Britney Spears as a brunette with bangs and she served cocktails at a bar.
Real-life Britney sees her dressed in sexy nightwear, lecturing a man lying on her bed.
The singer's videos are the most eagerly-awaited in pop – something which was recognized at the recent MTV Video Music Awards when she scooped three gongs for "Piece Of Me".
The song premiered on NYC's Z100 radio station on Sept. 26. It's the first single off her Dec. 2 album, Circus. The tune debuted on The Hills Sept. 29.
Britney Spears will premiere the video, which is full of sensual choreography on 20/20 Oct. 10, according to a source.