Hugh Hefner, who was recently confirmed his break-up with Holly Madison, quickly replaced his 'Number 1 girlfriend' with 19-year-old twins Karissa and Kristina Shannon.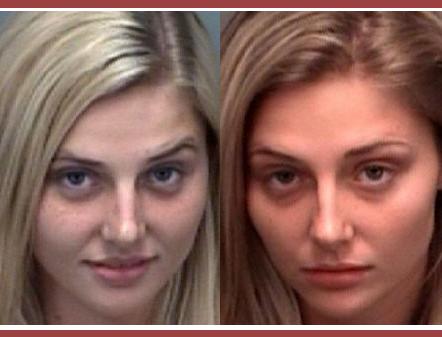 Kristina and Karissa Shannon are set to become the Playboy boss's new live-in lovers but their custody images are a far cry from the sexy Playboy cover shoot they did in April this year. Perhaps the Playboy boss either likes his girls feisty or he failed to look at their background check because his new Playmates aren't as innocent as they seem.
The 19-year-old sisters both posed for the cops on January 10 after they were arrested on suspicion of aggravated assault over a fight outside a house party.
US reports claim they hit a female colleague over the head with a beer bottle, leaving her with concussion. The twins, who were 18 at the time, were also involved in banging up by cops in St. Petersburg, Florida, and charged with aggravated battery.
Hugh Hefner, 82, was not available for comment, gushed earlier this week about the twins. The Playboy boss revealed: "They very much want to be girlfriends and they probably will become my girlfriends."
He also revealed that his No.3 girlfriend, Kendra Wilkinson, 23, would be leaving his mansion by the end of the year.
Both Holly Madison and Kendra Wilkinson starred in the American reality TV show "The Girls Next Door," shown on E! in this country, which follows the lives of Hefner's three live-in girlfriends.
The remaining one of the three, Bridget Marquardt, 35, is still living at the Hollywood mansion.
Comments
comments