An appearance by Madonna at a polo match in New York which Prince Harry was playing has fueled speculation that she is considering seeking to adopt a child from Lesotho.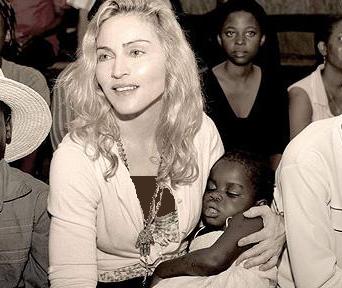 The singer was disappointed in April when a court in Malawi blocked her attempt to adopt an orphaned girl from the country.
She had been widely expected to take four-year-old Mercy James back to her home in the United States.
Rules requiring prospective adoptive parents to have been resident in the African country for an 18-24 month assessment period were waived in 2006 when she adopted David Banda, who is now three years old.
But the High Court in Lilongwe, the capital, ruled that a second adoption risked setting a dangerous precedent and could undermine efforts to combat human child trafficking.
Madonna, 50, is currently appealing the decision and remains hopeful that she will be able to adopt the girl.
But she is now reported to be investigating other African countries including Nigeria or Lesotho.
Her presence with David at the Veuve Clicquot Manhattan Polo Classic, in which Prince Harry played, in New York last week has helped fuel the speculation.
The event was a fund raiser for Sentebale, the Prince's charity which works with Aids orphans in Lesotho.
Prince Seeiso of Lesotho, who is the co-founder of the charity, was also present.
A Sunday newspaper quoted a source close to the singer as saying that the performer was seeking out "second choice" countries.
"Madonna was devastated when she was told she couldn't adopt Mercy," the source was quoted as saying.
"Her plan now is to start the ball rolling somewhere else.
"She has promised David a sister and she wants another African child …. she has done some research on Lesotho."
A separate newspaper reported that she had made inquiries with an orphanage in Kaduna, Nigeria, about adopting a girl.
A spokeswoman for the singer declined to comment.
Comments
comments